VAPORESSO iTANK
Please note: Tank is 2 ml capacity, as per TPD regulations.
The Vaporesso iTank is a newly developed vaping tank, that redefines DTL (direct-to-lung) vaping. It features an innovative Turbo Airflow System, with brand new Vaporesso Gti coils to provide smoother airflow and even-heating, which fully vaporise the e-liquid and produce bigger clouds and denser flavours.

Mechanics; Aesthetics
Inspired by the Spacecraft, this durable mechanical structure and all-metal wrapped design protects the tank, while offering an exquisite and unique appearance.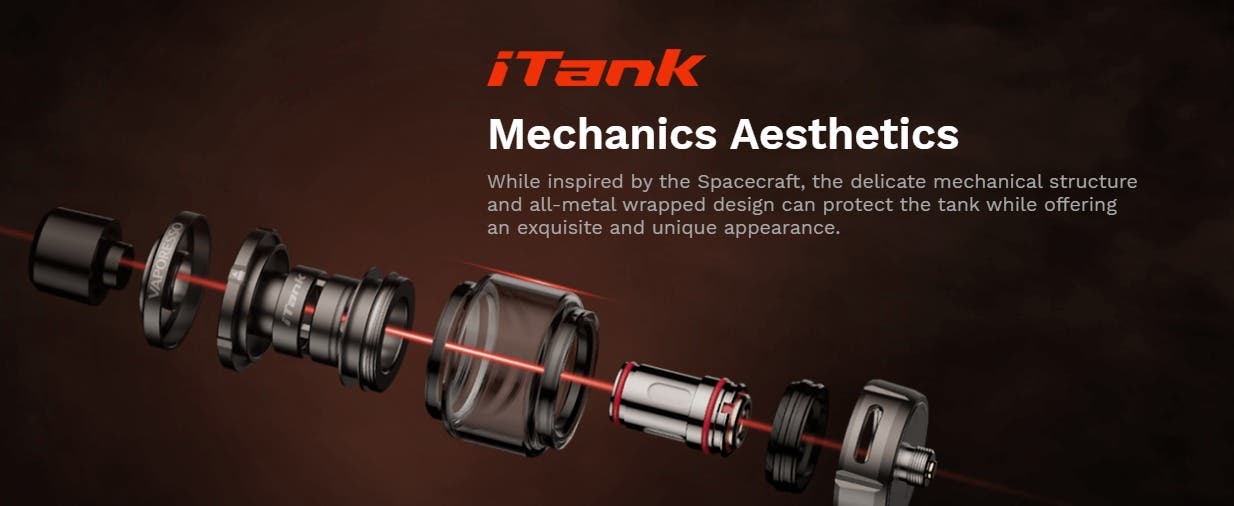 Smoother and Quieter
The Turbo Airflow system combines airflow from three inlet holes, at the bottom, making the airflow smoother, and quieter overall.
High Taste Restoration
The smoother and more focused air inlet enables the e-liquid to be evenly heated and fully vaporised, delivering better flavour.

Leak-Resistant and Worry-Free
The self-circulating e-liquid system draws in condensation to re-vapourise it and reduce the leakage.

Vaporesso GTi Coils
Developed for a revolutionary DTL experience
Currently available are the 0.2 ohm and 0.4 ohm GTi coils, which are included with the iTank.

Top Filling System
To fill the Vaporesso iTank with e-liquid, simply slide the top section to the side to expose the filling holes, insert your e-liquid nozzle and refill.
For e-liquid bottles with a wider top, you may need to unscrew the drip tip in order to create enough space to refill.


Easily Replace the Coil
To replace the Gti coils for the iTank, pull the old coil out, and push the new coil in. (Remember to prime your new coil before inserting).

Specifications
Parameters

Product name:
Vaporesso iTank
Tank capacity:
2 ml e-liquid capacity
Coil resistance:
GTi 0.2 ohm Mesh Coil: 60 — 75 watts
GTi 0.4 ohm Mesh Coil: 50 — 60 watts
Dimensions:
52.5 mm x 24.5 mm

Dimensions
The iTank is 52.5 mm in height and 24.5 mm wide in diameter.

Exploded View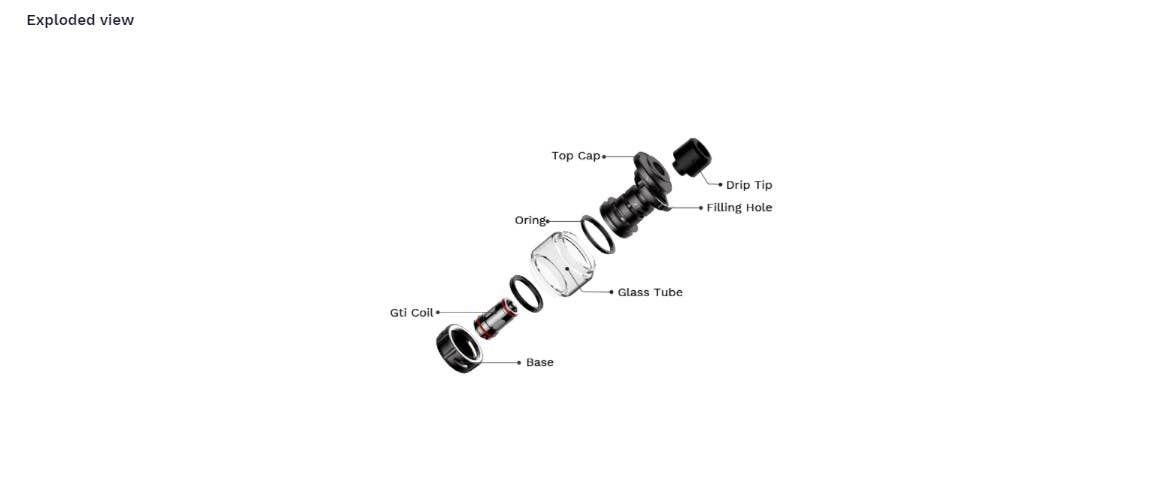 In the Box
1 x Vaporesso iTank
1 x GTi 0.2 ohm Mesh Coil (60 — 75W)
1 x GTi 0.4 ohm Mesh Coil (50 — 60W)
1 x Extra glass tube
3 x Spare O-rings
1 x User manual